Ok, i gotta share my latest addiction to you or I'll explode (psychological reasons..) Here it is: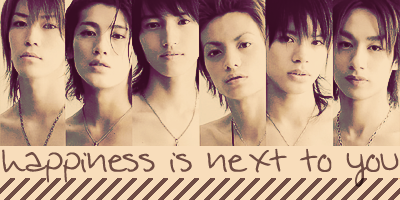 KAT-TUN
Happiness is really next to me while looking at their angelic faces screaming

"SEXY!!"

, really, I'm just thankful that God let me exist in this part of time to be with them on the same planet. Anyway, before my dramatic side gets to you and before i make weird speech gestures accompanied with acrobatic alien dances, I'll give you some insights about them:


KAT-TUN
(

カトゥーン

,

Katūn
?
, sounding similar to "cartoon")

is a
Japanese
boy band
formed under
Johnny & Associates
(JE) in 2001 who releases records under their own label,
J-One Records
. The group's name is an acronym formed by the members' surname initials. Currently one of the most popular
boy bands
in Japan, all 10 singles, 3 studio albums and 7 DVDs released by the group since their debut in 2006 have debuted at number one on the
Oricon
music and DVD charts.

Their debut was marked by a
tripartite
release, consisting of a
single
, an
album
and a
DVD
:
Real Face
,
Best of KAT-TUN
and Real Face Film. All three shattered records in sales.

[ thanks wikipedia.com for the oh-so-reliable infos, well, partly. ]

They were originally a temporary unit (with other 3 Johnny Jr.), as dancers of KinkiKid's Koichi Domoto (Of these members, it did not include Tanaka; however, members were switched before it officially became KAT-TUN.) Although the formation was only meant to be a temporary support unit, KAT-TUN gained a great deal of attention, so the formation was kept and KAT-TUN remains a solid unit. Like most of Johnny's other groups, KAT -TUN not only sings and dances, but the members also act and star in commercials. Has their own show called " cartoon KAT -TUN"

KAT-TUN proved to be a succesful product of Johnny&Associates, they broke a handful of records and shatter most records in sale . In 2002, KAT-TUN performed 11 shows in a day attaining the record of the most performances in a day. They also held their first ever concert (Okyakusama wa Kamisama - Concert 55man nin Ai no request ni Kotaete) which was also released in DVD form.In 2003-2004, even though they didn't debut yet, their popularity ranked as those of the debuted groups in the industry. They performed in 'Music Station' (Emu Sute; a long-running Japanese music television program) multiple times.

In 2005, KAT-TUN released their first major DVD, LIVE KAIZOKUBAN, which topped the Oricon yearly chart for the best-selling DVD. At the 20th
Japan Gold Disc Awards
, LIVE KAIZOKUBAN placed on the Music Video Of The Year list. In 2006, the five-year-long-wait of the fans ended as KAT-TUN announed on January 29, 2006 that in March 22, 2006 they will have their debut. The said debut was also accompanied by their debut single 'Real Face', an album (Best of KAT-TUN) and a DVD (Real Face Film), which sold thousands of copies after it's first week. The said release topped all three weekly Oricon Charts having them second to
Ayumi Hamasaki
. KAT-TUN holds the records for the highest weekly single debut sales as well as the record for highest weekly DVD debut sales. In addition, Real Face is a blasted hit, it topped the Oricon charts for three weeks straight, making them the first artist in the millennium to do so in Japan. The single sold over a million copies in nine weeks, making Real Face the highest selling single of the year. They also did a nationwide tour in support of the album. KAT-TUN became the first group to hold their own performances in
Tokyo Dome
(most popular stadium in Japan) before debuting. Three months after releasing Real Face, KAT-TUN released their second single, SIGNAL, on July 19, 2006. As expected from the media, it topped the Oricon weekly chart by exceeding 400,000 in sales.

On October 12, 2006, Akanishi announced a hiatus from the group in order to study linguistics abroad in the United States (Los Angeles precisely), leaving KAT-TUN as a five-member group for six months. This new development saddened many due to the fact that they can't "be with" Jin for half a year (polls/surveys tell that Jin has the most number of fans out of the 6 ) and also left the media buzzing about it. Many topics were created over the net about this sudden KAT-TUN turn, some fans were agry that "Jin only thinks of himself." others are greiving posting "Jin come back!!! we can't breath without you!!" (im exxagerating-lol). I'll interrupt first, I really thought that Koki was the one who went to LA before I was corrected by some fans, Koki is more vocal in saying that he want to go to the states to sharpen his english more, and also because he was more than fascinated in the way of life in America. He had said in some parts/clips of Cartoon KAT-TUN (if someone can recall their 'unplanned' trip to Chiba and some other place, they were ask where they would like to go Koki immediately said: "I kinda want to go to America..you?" he then was playfully slap by Kame, his companion that time. Phrases like: "I wanted to go to LA for half a year" or "I want to go to America" can be heared spoken by Koki, and of course, reaceiving a playful "That's not even possible." comments from Kame. ) that he wants to go to America for half-a-year if he's permitted.

The remaining members continued activities by releasing their third single, Bokura no Machi de (as the theme song to Kamenashi and Tanaka's drama,
Tatta Hitotsu no Koi
), and their second album, cartoon KAT-TUN II YOU, on December 7, 2006. Despite the fact that one of their lead vocalist was missing, the releases still topped the charts.

In 2007, KAT-TUN, still without Akanishi, started their second nationwide tour, TOUR 2007 cartoon KAT-TUN II You ,on April 3, 2007. The next day, KAT-TUN began to host their own variety show cartoon KAT-TUN, which airs every Wednesday from 11:55 P.M. to 12:26 A.M..Akanishi returned to Japan on April 19, 2007 and officially resumed work activities on April 20, 2007. His return excited a massive nationwide media frenzy. Akanishi joined the rest of KAT-TUN during their tour on April 21, 2007 in
Sendai
for the encore. The appearance marked his official return to KAT-TUN, then again, was feasted on by jin-hungry fans all over the world.
On June 6, 2007, KAT-TUN released their fourth single, Yorokobi no Uta, as the theme song to Tanaka's drama,
Tokkyu Tanaka 3 Go
. The single hit number one on the weekly chart. Although Yorokobi no Uta is KAT-TUN's official fourth single, it is speculated that YOU, the theme song to Kamenashi's drama,
Sapuri
, was supposed to be the fourth, but Akanishi's sudden hiatus delayed any production of YOU being a single.

On November 21, 2007, they simultaneously released their fifth single, Keep the faith, as the theme song to Akanishi and Taguchi's drama,
Yukan Club, and the DVD to their TOKYO DOME Live of KAT-TUN "Real Face" concert. The DVD established their fifth consecutive release to top the Oricon musical DVD chart. It also set the opening week record for the year. In addition, KAT-TUN took the yearly number one position on the Oricon musical DVD charts for the third time in a row with the release. To add on to the number ones, Keep the faith also topped the weekly single charts.

At the 21st Japan Gold Disc Awards,Real Face took Single of the Year. In addition to this, Real Face, SIGNAL and Bokura no Machi de were included in the list of The Best 10 Singles for 2007. Furthermore, their debut album, Best of KAT-TUN, placed in the The Best 10 Albums of 2007 and their DVD, Real Face Film, was also included on the The Best Music Videos of 2007 list.

In 2008, KAT-TUN released their sixth single, LIPS, which I think has the most horrible album cover in KAT-TUN history- whoever thought up the cover theme should be replaced- they shouldn't have taken the song's title literally!, as theme song to Kamenashi's drama, 'One Pound Gospel', where he plays a role of a gluttoned boxer, and as expected, topped the Oricon charts.
At the 22nd Japan Gold Disc Awards, Bokura no Machi de and Keep the Faith won two of the Best 10 Singles Their concert DVD, Live of KAT-TUN "Real Face", had also won one of the three Best Music Videos awards.

On March 30, 2008, it was announced that KAT-TUN will hold their third nationwide tour, to start in Hiroshima on June 21, 2008.

On April 22, 2008 it was announced that KAT-TUN will release their third album, KAT-TUN III Queen of Pirates on June 4, 2008.

KAT-TUN released their seventh single, Don't U Ever Stop, on May 14, 2008 which topped the weekly Oricon chart. The release included three limited edition versions featuring the members' solos in pairs. The first with Kamenashi and Taguchi, the second with Akanishi and Tanaka, and the third with Ueda and Nakamaru. It sold more than the top 49 artists after them combined. Along with LIPS, KAT-TUN holds the records for the two highest first-week sales in 2008.

On May 15, 2008, during the MC segment of promoting Don't U Ever Stop on Music Station, Kamenashi announced that two days were added to their Tokyo Dome performances for their tour, resulting in a total of four consecutive days in the Dome. This marks a historic event in the Dome's history, which has been established since 1988, as KAT-TUN is the first Japanese artist to hold four consecutive days at the stadium. Other Japanese artists, such as
SMAP
,
X Japan
and
Ayumi Hamasaki
have had three consecutive days at the Dome, and Rolling Stones and Michael Jackson have had multiple days at the Dome as well, but they were not consecutive.

On December 3, 2008, KAT-TUN released
White X'mas
, their first Christmas single. The release consisted of a limited and regular edition, but both would only be sold during the holiday season. The single, with no drama tie-in and no B-side, still sold moderately well with more than 250,000 copies sold in its first week.

On December 21, 2008, it was announced that KAT-TUN would release a new single
One Drop
as a tie-in theme song to Kamenashi's new drama,
Kami no Shizuku
, just two months after their
White X'mas
single. The release consists of three versions: Limited Edition w/DVD, Regular Edition (First Press) and a Regular Edition.

On December 28, 2008,
avex
Taiwan announced on their website of an overseas (OS) press release of KAT-TUN LIVE TOUR 2008 QUEEN OF PIRATES on January 20, 2009, including traditional Chinese subtitles.

Before partaking in Johnny's annual countdown concert on December 31, 2008, KAT-TUN performed an unbroadcasted special medley for 10 minutes, consisting of Keep the faith, ONE DROP and Yorokobi no Uta. This was their first time performing ONE DROP publicly, debuting the song.

In 2009, it was announced on January 1, 2009 that Kamenashi will continue starring in DREAMBOYS in September for 38 shows. The stage show is expected to continue for six more years. In addition, KAT-TUN released KAT-TUN LIVE TOUR 2008 QUEEN OF PIRATES DVD, featuring their last day of four in Tokyo Dome.

On
February 11
, 2009 KAT-TUN released
One Drop
for
Kazuya Kamenashi
's drama,
Kami no Shizuku
. It became KAT-TUN's 9th consecutive number one single since debut, selling 281,359 copies in its first week.

A month later, on
March 11
, 2009, KAT-TUN released
Rescue
for band member Nakamaru Yuichi's drama, Rescue: Tokubetsu Kodo Kyujotai. It became KAT-TUN's 10th consecutive number one single since debut, selling 322,597 copies in its first week. With this achievement KAT-TUN are now tied with their senpai NEWS for the 2nd most consecutive #1 singles from debut (Kinki Kids is #1 with 28). A week after the release of
Rescue
, it was revealed through their official website that KAT-TUN would be releasing their fourth studio album.

On April 1, 2009 the title of the album, Break the Records: By You & For You, as well as the track list for KAT-TUN's fourth studio album were released; the release of the album itself is slated for April 29, 2009.

As far as news on KAT-TUN's concerts for 2009, it was announced on January 23 that KAT-TUN would hold 7 consecutive days at
Tokyo Dome
, Japan's largest and most prestigious arena. Also, making KAT-TUN the first artists in history to do so. However, by the end of March, due to the large number of pre-reserved tickets, KAT-TUN's record breaking concert added extra tour dates. Making KAT-TUN's 2009 concert 8 consecutive days in Tokyo Dome from May 15 to the 22, 3 days in Osaka from May 29 to the 31, and 2 more days in Tokyo Dome from June 14 to the 15. For a total of 13 concert performances in two cities, and 10 days in total for Tokyo Dome.

Sales for KAT-TUN's 8 consecutive days in Tokyo Dome concert went on sale on April 4, 2009. On the very same day all 440,000 seats were sold out.
whew! good thing I got that all out..this post took me half day to finish, well, I think I shouldn't blame the post, it's actually I who was slacking off and doing non-sense stuff..but whatever, at least I finished this already! Ok, time for comments...I REALLY HATE the Lips album cover, it'll only take them some colored afro to look like some retro-freak form the streets..Here's the cover: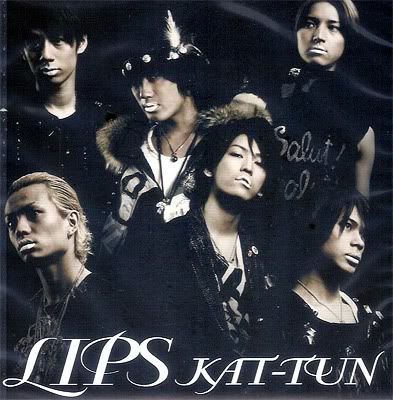 D*mn, I cringed. I know i shouldn't be that hard to them but who ever thought of putting white lipsticks and tanning (understatement, I know.) them? Didn't they thought up something much much more...pleasant, to say the least? I don't really care much if only they didn't include Jin and Ueda-hime! and don't mention, THEY ARE THE WORST LOOKING OF ALL THE SIX IN THIS D*MN COVER! good thing the song itself gave justice to those loyal fans who saved up money to buy this album...and oh!! before i forget! it's

APRIL 29 TODAY!!

meaning the release date of their 4th album: Break the Records: By You & For You, I saw the statistics and in the first day (this day) the sales came a bit low, reaching only 89K, but I can't blame fans though, it's really hard saving up for the TOKYO DOME CONCERT tickets [to see Nakamaru jump! haha!!], then saving for the incoming albums and items..plus the release was also accompanied by their sempais and fellow Johnny,

NEWS

which makes it more harder and confusing to choose: KAT-TUN

or

NEWS

?



Ok, that's it for now! ta-ta!



signing out,




teddybear nightmare