•

•

•

•

C

h

i

l

la

x

.

.

.

Made something random from the picspam of my beloved graphics-quencher
kohmichan
~!!! Enjoy~!!! or not. whatever. I call this out-of-the-blue 'i-don't-know-what-to-call-it' artwork (pffft!) of mine:
The

T

urtle

R

evenge.
( what happens when K

am

e

is pissed, lesson learned Jin? )

After spending a 'hot' night with Jin (remember the b-day? Kazu= present. 'nuff said. ), Kazu-chan decided to go shopping...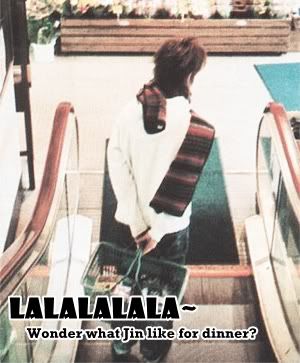 After buying all the ingredients, he immediately went to his and Jin's meeting place. They've decided to meet there after an hour but 2 hours had passed and no sign of Jin was seen, still, he waited for another 5 minuets...and another 5 minuets....and another 5 minuets...still, there was no sign of life of Jin around. He decided to find his baka lover.


After

two

hours...
After another half an hour, Kame decided to look for the missing baka lover....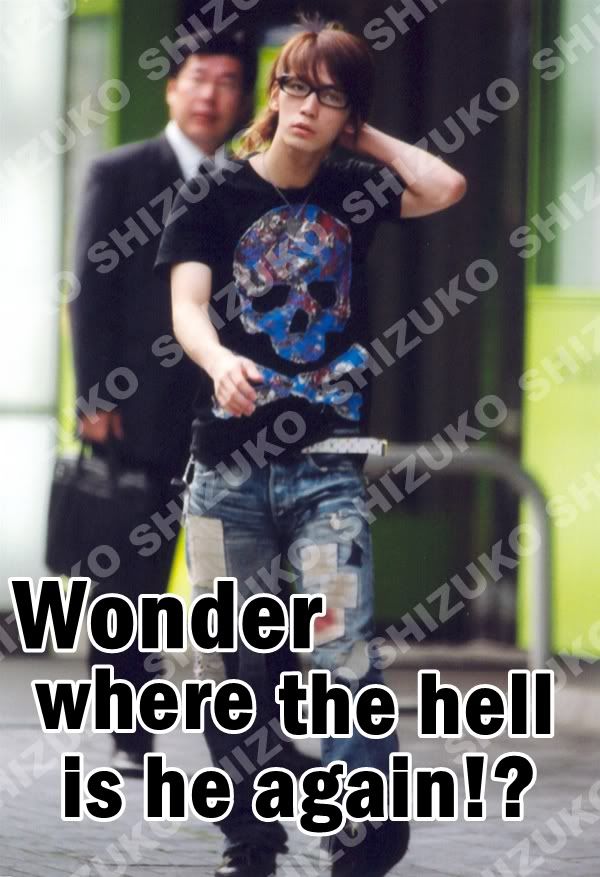 As he was circling the mall, he met Ueda-chan. "Eh? Kazu-chan? What are you doing here?" Ueda asked. "Nothing, just buying stuffs for tonight's meal. Jin and I decided to meet but I can't see him anywhere!" he whined. "Don't worry, I think I still got time before Ryo come to pick me up. I'll help you find him." he said and smiled. Kame, feeling grateful, smiled back- and the two ukes went off to look for the missing baka lover.


Feeling tired...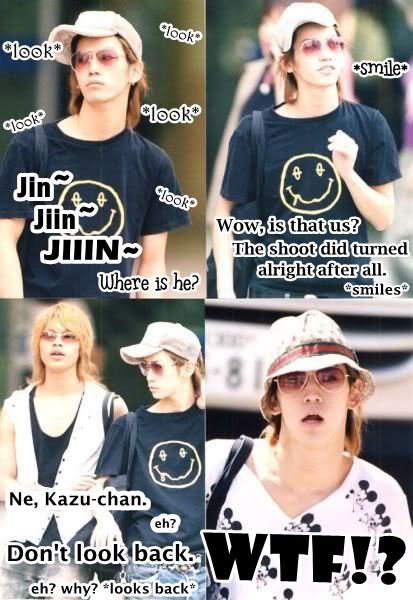 That afternoon....
AFTER

3

DAYS...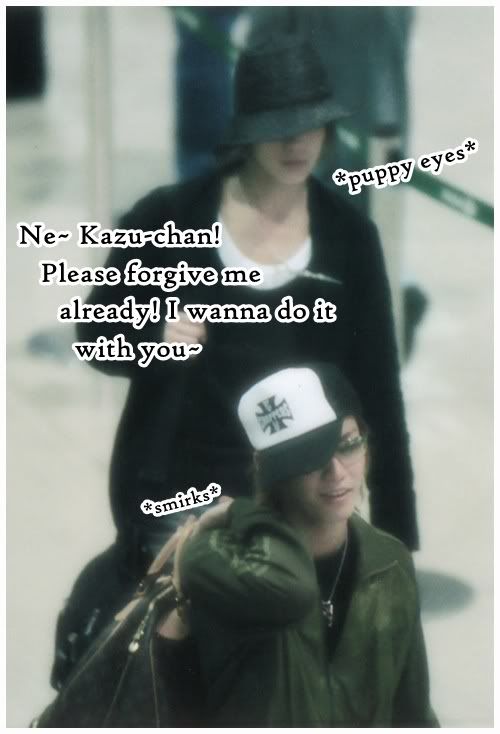 Moral Lesson

:

When the

turtle

is pi

s

s

e

d,
expect sexual

a

b

s

t

i

n

e

n

c

e.
Notes:
• Not created to offend anyone, just pure fangirl-ing.
• You can re-post or whatever.
• I didn't asked you to read it so don't bitch around. Remember, it's MY SPACE. BITCH OFF.
• I don't own the boys, neither do you- so claim them if you want a stick up your ass and a bullet in your fcking head.